I am excited to participate in Market Value, a show designed to crtique of wealth and worth at Columbia College in Chicago. Steve Juras did an excellent job curating a group of thougthful and impressive artists. Read the details below: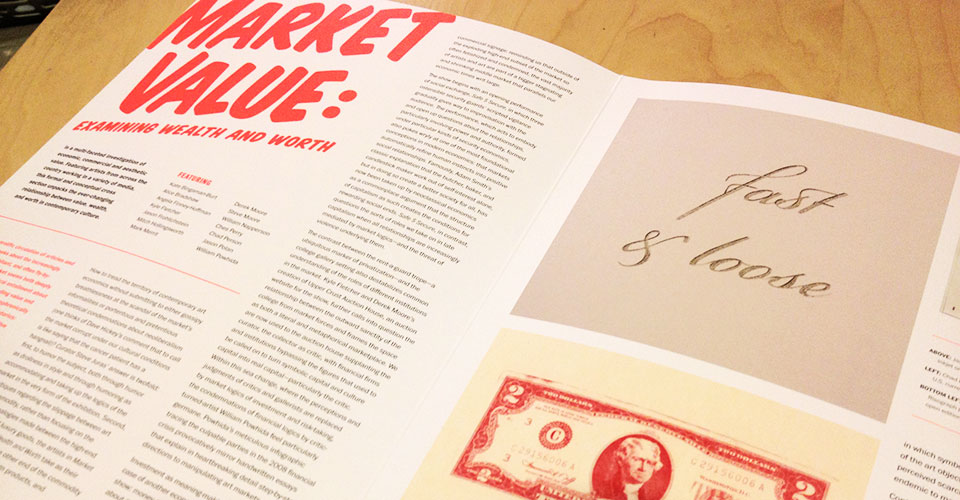 Curated by Steve Juras
Show dates:
February 28 – April 20, 2013
Opening Reception:
February 28, 5-8 pm
Special in-house screening of art critic Ben Lewis' 2009 documentary The Great Contemporary Art Bubble, followed by a conversation with the curator and artists Angela Finney-Hoffman, Kyle Fletcher, and Jason Frohlichstein.
Market Value: Examining Wealth and Worth is a multi-faceted investigation of economic, commercial and aesthetic value. Featuring artists from across the country working in a variety of media, this formal and conceptual cross section unpacks the tenuous relationship between value, wealth, and worth in contemporary culture.
Participating artists include Alice Bradshaw, Kate Bingaman-Burt, Angela Finney-Hoffman, Kyle Fletcher, Jason Frohlichstein, Mark Merrit, Mitch Hollingsworth, William Napperson, Steve Moore, Ches Perry, Chad Person, Jason Polan, and William Powhida.
Bid for work at http://mktvlu.com/!
Check out the catalog and get more info on the A+D Gallery page.